Stepping Through The Portal - The Peace Dealer/The Leo King Full Talks (MP4 Download)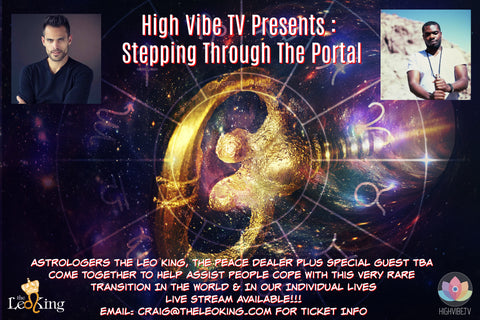 FOR MATURE AUDIENCES ONLY - MANY TRIGGERS, SOME PROFANITY, AND SOME TRUTH MNY NOT BE READY FOR. - THE LEO KING DOES NOT INTENT TO OFFEND OR TRIGGER PEOPLE. THIS VIDEO IS A COMING FROM A PLACE OF NO POLITICAL CORRECTNESS, AND HAS SOME THEMES THAT CAN DISTURB PEOPLE. IF YOU ARE NOT READY FOR SOME TRUTHS, THEN PLEASE DO NOT PURCHASE THE VIDEO.
Watch The Leo King and The Peace Dealer perform a live presentation in front of a live crowd!
Astrologers The Leo King, The Peace Dealer PLUS Special Guest TBA
Come Together To Help Assist People Cope With This Very Rare Transition In The World & In Our Individual Lives. The Uranus in Taurus Transit, Pluto Saturn in Capricorn, and much more is covered. Can you adjust to the extreme physical changes that are happening in this world?
2 Hours and 17 Min, special appearance by Sophia for 15 min.
 TO DOWNLOAD - Please look in your spam. The video is an mp4 file, so make sure your mobile or computer player can play mp4 videos. If you for some reason did not receive your download, email craig@theleoking.com with your order number. 
---
More from this collection